When someone is arrested within the County of Los Angeles by the LAPD or any of the law enforcement agencies in Los Angeles County they are taken either to a local jail or to the Los Angeles County Jail. In many cases getting someone bailed out of custody at the local jail is much easier and faster than the Los Angeles County Jail. We are talking a difference in hours to days. When someone is processed after being taken into custody this includes taking fingerprints, taking a mug shot and checking for any outstanding warrants on several different databases. Once the record check comes back clean they are eligible for release by a bail bond. Contact us as promptly as possible, so we can help you secure bail prior to your loved one being transferred to the Los Angeles County Jail. Our bail bonds agents are here to help you anytime day or night, 365 days a year. Our phone number is (800) 224-5911.
---
Once an inmate is eligible for release from jail on bail; the inmate will be assigned a bail amount. This amount must be paid in order for the inmate to be released. This fee can either be paid in full directly to the court with certified funds. These funds are taken as a guarantee to ensure that the person being bailed out will make all of their court appearances. These funds will be returned in full minus any court fees once the court case has been resolved.
---
Another option is to use bail bondsman service. A bail bondsman will put up the full amount of the bail with the court for a onetime non-refundable fee, typically 10%. The benefit of using a bail bondsman is that you do not have to have all of the cash on hand in order to get someone out of jail.
The County of Los Angeles has the following correctional / jail facilities: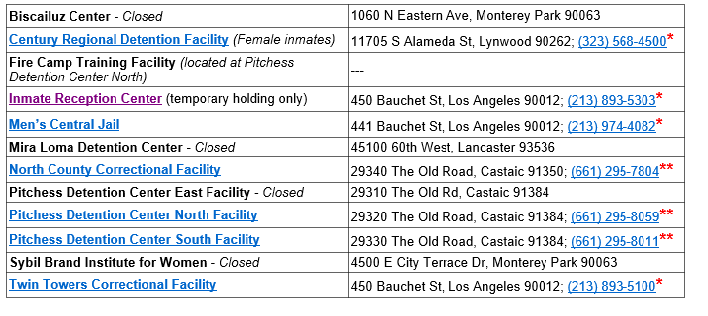 ---
Los Angeles County is planning a proposed new minimum security facility for women inmates at the Pitchess Detention Center. Currently, women inmates are housed only at the Century Regional Detention Facility.
Medical Services Bureau of the Los Angeles County Sheriff's Department is the largest correctional medical service
provider in the world.
---
North County Correctional Facility is also known as "SuperMax."
The facilities of the Pitchess Detention Center in Castaic were once known as Wayside Honor Rancho and was established as a minimum security facility in 1938 where inmates worked in a farm setting. The farm setting for the jail closed down in 1992.
---
Mira Loma Detention Facility is contracted by U.S. Immigration and Customs Enforcement (ICE) to house illegal immigrants until their immigration case is decided. The facility operates as a regular county jail except that persons housed there are identified as immigration detainees. These detainees are citizens of any one of more than sixty different countries. They remain in detention at the facility until their case is decided through Immigration Courts.  ICE personnel assigned to Mira Loma handle all detainee transport, releasing, tracking and deporting. Los Angeles County Deputies and Custody Assistants only handle the Executive Office of Immigration Review courtrooms at the facility.
---
The city of Los Angeles Jail Division has 10 jails, three large scale jails and seven small scale jails.
---
Large Scale Jails: Metro Jail, 77th Regional Jail and Valley Jail.
---
Small Scale Jails: Devonshire (temporarily closed), Foothill (temporarily closed), Harbor (weekend bookings only), Hollywood, Southwest (temporarily closed), Wilshire (temporarily closed) and Pacific.